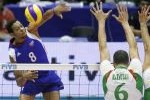 Cuban men's volleyball team debuted with a victory at the NORCECA Olympic Qualifying Tournament, after defeating Puerto Rico in Long Beach by 3-0 (25-20, 25-18 and 25-18).
The triumph of the Cuban team in group B was based primarily on the Rolando Cepeda of three key men: captain Wilfredo Leon, Rolando Cepeda and Fernando Hernandez, who provided all the offensive by adding 38 of the total 75 points scored by the pupils of coach Orlando Samuell.
Leon totaled 10 in the attack and three in the blockade; while Cepeda had seven in the attack, four in the blockade and two in the service, and Hernandez (9-1-2). The most outstanding Puerto Rican players were Juan Figueroa (11) and Enrique Escalante (8).
Cuba's attack totaled 38 points, 14 in the blockade and only four in the service, while Puerto Rico (37-4-4) made 19 unforced errors, eight more than those committed by its opponents.
The Cuban triumph was the first step in seeking to qualify for the 2012 Olympic Games in London.
The men's Olympic qualifying tournament of the North, Central American and Caribbean Volleyball Confederation (NORCECA) grants a single slot for such world event to be held in August.
Taken from Prensa Latina