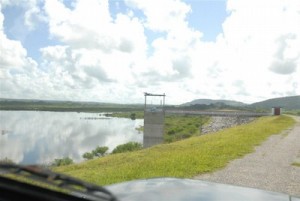 Repairs carried out at Sancti Spiritus's Dignorah dam have been already concluded, thus eliminating the hydrological precaution that prevented the filling up of the reservoir for a long time.
This is one of the three dams found in the Jatibonico del Sur River basin, which have been submitted to repairs in the current year.
According to Manuel Díaz Riverol, sub delegate at the provincial water resources investment offices in this central Cuban territory, construction actions were started in 2011 to conclude the dam's overflow channel valued over 1 000 000 pesos.
This year's program also included the building up of a dike, and other construction undertakings at the Lebrije dam. As a consequence of the heavy rains repeatedly reported this year in Sancti Spiritus, these actions have been postponed for conclusion in 2013.  Díaz Riverol also briefed on similar works underway at La Felicidad local dam.
In general, these actions will avail the delivery of nearly 130 000 000m³ of water, mostly aimed at supporting agricultural prioritized programs such as the production of rice in southern Sancti Spiritus, and soja in the nearby province of Ciego de Avila.