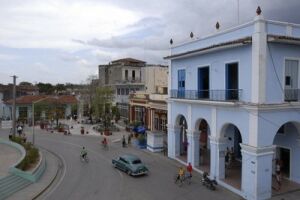 The central Cuban city of Sancti Spiritus, which will turn 500 in 2014, seeks to rescue its patrimonial values without interfering with the village's current development, in order to apply for the UNESCO Cultural Heritage Site condition. The head of the local Office of Monuments Roberto Vitlloch told Escambray digital, that the National Commission of Monuments is analyzing the possibility of including Sancti Spiritus in the proposals to be submitted to UNESCO.
The evaluation to be made by the National Commission of Monuments and the International Committee of Monuments and Sites will mainly take into account the preservation of the so-called A zone, the oldest and best preserved area of the village.
The Iglesia Mayor (The Mayor Church), the Teatro Principal (The Principal Theater), Llano Street, Quinta Santa Elena (Santa Elena House) and several colonial houses are found in this district.
This attempt, which seeks to foster tourism in the city, should match the sustainability of the already undertaken restoration efforts.