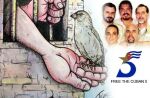 Over a 100 friends of Cuba have visited Sancti Spiritus, a central province of the island, as for January of the present year, confirmed specialists from the Cuban Institute of Friendship with the Peoples (ICAP) in the region.
By  Maria Isabel Abeledo Mena
Members of the Nordic Solidarity Brigade coming from Great Britain, Sweden and Norway, as well as the Australian and New Zealander's Cruz del Sur reaffirmed in the territory their support to the Cuban Five cause and their return to this country.
January 2012 also witnessed the visits of some groups from USA, Belgium and Spain. These friends of Cuba toured interesting places in Trinidad and in Sancti Spiritus as well.
With the premise of friendship, the solidarity brigade members also visited Camilo Cienfuegos National Memorial, located in Yaguajay, a northern municipality in Sancti Spiritus.