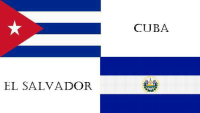 El Salvador's Vice-president, Salvador Sanchez, met with the president of Cuban Parliament, Ricardo Alarcon, who is visiting that central American nation.
The meeting took place on Friday, when they discussed bilateral relations between the Cuban and the Salvadoran governments and people, said Cuban ambassador to San Salvador Pedro Pablo Prada, as citied by PL news agency.
Previous to the meeting, Alarcon participated in the launching of a book on the social development of the country. He was also awarded the top distinction granted by the Salvadoran Parliament to foreign personalities.
The Cuban Parliament President also met with deputies and personalities who signed the January 16, 1992 peace accords that put an end to the armed conflict in El Salvador. Ricardo Alarcon is expected to return to Cuba on Sunday.