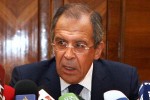 Russian Foreign Minister Serguei Lavrov today insisted on a peaceful solution to the Syrian dispute, calling to implement the final document of the Geneva conference last June.
The only way-out is to implement the agreement reached in Geneva last June 30, said Lavrov at the beginning of a meeting with Syrian Deputy Prime Minister Kadri Jamil in this capital.
Lavrov said that Russia is in favor of the Geneva's communique, which gives a detailed information about the plan of former UN and Arab League special envoy for Syria, Kofi Annan, that included the end of armed combats and a dialogue without foreign interference.
That document is what would avoid more bloodshed and loss of human lives in the Syrian conflict, said the Russian diplomat
For that, the political will of Damascus Government and Syrian oposition forces will be needed, stressed Lavrov.
The solution to the economic and humanitarian situation prevailing in Syria chiefly depends on the fulfilment of the agreements reached in Geneva, which include details on how to begin the dialogue and the transition process.
Moscow insists in the fulfilment of the Geneva communiqué because a commitment document that backed a peaceful solution to the Syrian dispute was drawn up at the conference of the so-called Action Group of the Western nations and Syrian neighboring countries. (Taken from PL)