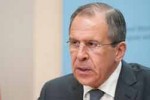 Russian Foreign Minister Sergei Lavrov will travel to Tehran on Wednesday to analyze the situation in Syria and Iran's participation in an international conference on the Syrian conflict, the Foreign Ministry said on Tuesday.
According to the Ministry, Lavrov will discuss the developments in general in the Middle East and northern Africa, including the renewed domestic conflict in Libya and the Syrian crisis.
Moscow considers that an international conference on Syria demands the participation of the Islamic Republic of Iran to take advantage of the possibilities to influence positively on the solution to the Syrian crisis, said the Russian Foreign Ministry.
The United States rejects Tehran's participation in the Kremlin-sponsored conference categorically.
The Russian initiative involves some permanent members of the UN Security Council (Russia, China, France, the United States and Great Britain), neighboring countries such as Lebanon, Turkey, Iraq, Jordan and Iran, and other nations like Qatar and Saudi Arabia,
Other guests at the conference will be international organizations such as the Organization for Islamic Cooperation, the European Union, the United Nations and the Arab League, whose secretary general, Nabil El-Arabi, is expected to visit Moscow in late June.
Last week, Lavrov denounced the increasing participation of terrorist organizations in the Syrian conflict and the supply of weapons to armed groups from abroad, as well as attacks on Russian experts in Syria.
A mission of international observers is monitoring the compliance with the ceasefire that must have been implemented since April 12 in Syria, according to a six-item plan designed by the AL and UN special envoy, Kofi Annan.