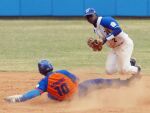 Three tight encounters before Industriales described Sancti Spiritus debut in 2012 in a stadium that lived the great rivalry existing between these two teams during the past years. By Elsa Ramos
In the highly emotive and hard-fought encounters, Roosters took the worst as they lost the subseries 1-2, thus receding in the Western region standings.
After having won 6 games in a row, Ruperto Zamora's players gave up before Havana's Blue Lions, despite taking the first game thanks to a spectacular homerun shot by Eriel Sanchez with Bello on first base. This was Ismel Jimenez 4th victory in the tournament.
The last two games showed Sancti Spiritus offensive does not function properly as too many men were left on base in key moments. The 277 average is far beyond the actual power of this team.
Pitching and defence remained stable, the first being placed 5th, and the latter as lousy as ever since this version started.
Lions Serguey Perez reaffirmed himself as Roosters' whip as he shot the golden hit to win the second game, while his three-run homer in the third gave Industriales the victory.
During Saturday, Sunday and Monday Roosters are to face Artemisa as visitors, then, they continue with Cienfuegos.