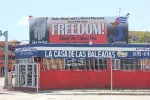 A billboard appeared in the US city of Miami with a demand of freedom for the five Cuban antiterrorist fighters now imprisoned in US, mostly known as The Cuban Five. The huge billboard is located in the heart of so-called Little Havana, on the corner of the 17th Avenue and 1st Southwest Street.
It is sponsored by Radio Miami and the Martian Alliance and has the word "Freedom" as the key word in the text, inviting people to sign up and connect with the address www.radio-miami.org to see a video with the same title in which the Cuban National Assembly president, Ricardo Alarcon carries an exhibition out in English on the case.
This is the most recent effort of the organizations integrating the Martian Alliance in favor of justice to achieve the unconditional freedom of our five brothers, said the organization.
The same way, both entities managed to publish announcements in the newspapers The New Herald and The Miami Herald in which they demand to Washington the freedom of Gerardo Hernandez, Fernando Gonzalez, Antonio Guerrero, Ramón Labañino and Rene Gonzalez.
This is the second fence that is located in the southern metropolis in favour of the freedom of the antiterrorists, they said. On April 5, the International Committee for the Freedom of the Cuban Five placed an enormous poster in the middle of the intense morning traffic on one of the freeways in the field of the Bay of San Francisco, California.
Thousands of persons that were travelling at this hour round the Interstate freeway, could read the message "Obama, Free the Cuban Five!"
The Committee summoned also to a day called "Five Days for the Cuban Five" from April 17 until next April 21, in which diverse actions are foreseen in the Congress by means of the delivery to conferees and senators of information printed on their situation.
The acquaintances are worldwide since the Five were arrested on September 12, 1998 in the city of Miami and submitted since then to an unjust and severe trial.
An irregular process celebrated there condemned them in 2001 to sentences going from 15 years up to the double life imprisonment.
World personalities, civil affiliations and governmental representatives have defended the Five, and remember that only they were controlling the activity of extremist groups of Cuban origin in New Jersey and Florida, trying to be anticipating to their terrorist actions and to assemble tests on possible attacks.
Among the Nobel Prizes supporting the cause there are Wole Soyinka, Nadine Gordimer, Desmond Tutu, Rigoberta Menchú, Adolfo Perez Esquivel, José Saramago, Harold Pinter, Zhores Alfiorov, and Günter Grass.
Taken from Prensa Latina