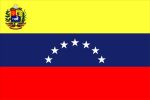 The combined work of security organizations of the Venezuelan government facilitated the reduction of the violence in this capital and the seizure of three thousand ammunition of firearms since last January 11.
In accordance with the director of the Bolivarian National Police (PNB), Commissioner Luis Fernandez, in each one of the three months (January, February and March) the authorities were able to reduce the index of homicides in the Capital District in 10 percent, in comparison with the precedent year.
The Bolivarian National Police, the Body of Scientific, Penal and Criminal Investigations and the Public Ministry reached these results after they began to work in the Investigation Division against homicides in the Metropolitan Area.
According to Fernandez, with this work, the Capital District has ceased to be the region with more occurrences of homicides, a place occupied by the state of Miranda.
Among the achievements obtained in the first three months of work, the official also highlighted the capture of an important number of criminals and the reduction of weapons.
The Venezuelan government impels measures to diminish insecurity, one of the main concerns of the inhabitants of this country.
A combined resolution from the Ministries of Defense, Justice and Foreign Affairs, put in force in March, suspended the commercialization and import of firearms and ammunition, as well as the inputs to manufacture these last ones for a whole year.
Taken from Prensa Latina