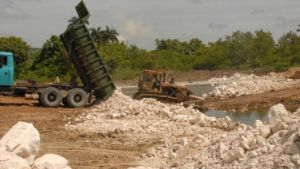 Significant advancements have been reported in the roadworks so far carried out in Sancti Spiritus, after the heavy rain period, with the support of construction workers from nearby provinces.
Sources from the Provincial Administration Council (CAP, in Spanish), referred to the tasks that have been so far accomplished in those roads which were damaged the most. Likewise, they mentioned the alternative solutions implemented to recover strategic roads like the Managuaco-Siguaney route, and the one that connects the capital city with La Sierpe.
Similar construction works are reported in the Cuban village of Trinidad, the most hit-by-the-rain territory, access was re-established in several local communities like Maguas, Guarico, Del Otro Lado, Caracusey and El Loro.
The Trinidad-Meyer branch line, found in the Escambray mountains, is still interrupted, but works continue to fix the greatly damaged railroad line.