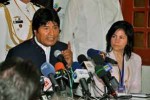 The Sixth Summit of the Americas reached its final day this Sunday without having been able to reach consensus and with a Latin America and the Caribbean in rebellion.
This was declared by the Bolivian president, Evo Morales in a meeting with the press, after a day in closed door deliberations and debates between the heads of States and Governments.
There is a rebellion in Latin America and the Caribbean against the United States for its position in front of the general claim to include Cuba to these hemispheric forums and to the claim of Argentina's sovereignty for the Falklands, he stressed.
All Latin American countries want Cuba to be present, but there is an imposition, a dictatorship that does not accept it, he expressed.
For Morales, it is not possible that a country or a country and a half (United States and Canada) could veto the attendance of Cuba to such events, so there is no integration.
Likewise, he described as fair the absence of Ecuadorian President Rafael Correa, to protest the veto of the United States to Cuba.
The Bolivian president also said that many countries, besides those which are part of the Bolivarian Alliance for the Peoples of Our America (ALBA), had claimed that this should be the last Summit without Cuba.
That integration block manifested it will not participate anymore in a Summit of the Americas without the presence of Cuba and demanded the immediate cessation of the economic, finance and commercial blockade of the United States against the Island.
During the opening session Colombian President, Juan Manuel Santos, described the hostile and aggressive policy as anachronistic.
He also said the blockade and the exclusion of Cuba to the Summit is due to the lack of improvement in paradigms from the past and the lack of bridges to creatively address the situation.
On his part, Peruvian president, Ollanta Humala asserted they will analyze how to improve in these and others topics in this Summit.
Taken from Prensa Latina