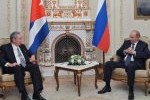 The Cuban President Raul Castro was welcomed in Moscow by Vladímir Putin and Dmitri Medvédev, President and Prime Minister of Russia, respectively.
"Cuba is a traditional partner of us, we are very happy to see you", said Putin to Raul in the presidential residence where both leaders examined essential matters in the bilateral relations, reported Prensa Latina News Agency.
The Russian President recalled the recent celebration of the 110th anniversary of the establishment of the diplomatic relationship between both nations, and expressed his best wishes to Commander Fidel Castro, whom he described as a great friend.
Raul Castro was thankful for the organization of his visit and expressed his will to visit again the Russian friends.
Earlier, Cuba's leader had met the Russian Premier Dmitri Medvédev, who manifested joy for his arrival in Moscow, and considered of the essence to adjust the points of view in regard the international agenda and bilateral relations.
During the meeting Medvédev acknowledged the need of maintaining regular consultations to take advantage of the economic and humanitarian spheres. The Russian leader highlighted the strength of the bond between both countries, marked by the complicated international crisis.
The Cuban delegation is also made up of Ricardo Cabrisas Ruiz, Vice President of the Council of Ministers, and Bruno Rodriguez Parrilla,Minister of Foreign Affairs.
Raul flew from Vietnam where he completed a four-day official visit to Vietnam and a similar to China. This is Raul´s second visit to Russia since he took office in 2008.
Taken from AIN/Translated by Escambray