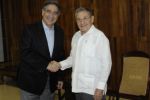 The President of Cuba's Councils of State and Ministers, Army General Raul Castro welcomed  Brazilian Minister of Development, Industry and Foreign Trade Fernando Pimentel, who is on an official visit to Cuba.
During the meeting, Raul Castro and Fernando Pimentel exchanged views on growing bilateral relations and they reiterated their willingness to jointly work towards the deepening of those links between Brazilia and Havana. They also addressed current international issues.
The distinguished visitor was accompanied by Brazilian ambassador to Cuba Jose E. Martins Felicio.
On the Cuban side was the vice-president of the Council of Ministers Ricardo Cabrisas and Foreign Trade and Investment minister Rodrigo Malmierca.  (Taken from ACN)