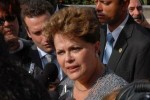 Cuban President, Raul Castro is expected to hold official talks on Tuesday with visiting Brazilian head of state, Dilma Rousseff, who arrived yesterday in Havana. The heads of state are set to review the state of traditionally friendly relations between both Latin American nations, during their meeting at Havana's Palace of the Revolution.
Rousseff will later head to the Port of Mariel, some 50 km west of Havana, which undergoes expansion and modernization works, partially funded by the Brazilian government.
According to Brazilian sources, Rousseff will ink a series of economic agreements during her stay in the Caribbean country.
President Rousseff was welcomed Monday at Havana's Jose Marti International Airport by Cuban Foreign Minister Bruno Rodriguez.
Rousseff will wind up her visit to Havana on Wednesday and will head for Haiti.
Brazil is Cuba's second major commercial partner in Latin America after Venezuela.
In a recent release, the Brazilian foreign ministry described the visit by Rousseff to Cuba as "an opportunity to deepen ongoing dialog and bilateral cooperation, which have experienced significant advancement over the past few years." (Taken from RHC).
Dilma Rousseff: Brazil Willing to Cooperate with Cuba
The best way for Brazil to fight the blockade imposed on Cuba by the United States is to offer our cooperation in different areas, Brazilian President Dilma Rousseff said on Tuesday.
Roussef, who arrived in Havana on Monday, highlighted the existence of strategic cooperation favorable for both countries, because Cuba has a unique and competent structure in areas such as biotechnology, while Brazil can provide high technological capacity.
After laying a wreath at the memorial dedicated to Cuban National Hero José Martí, Rousseff told reporters that her government is committed to helping the Cuban people, who are driving the update of the country's economic model.
Brazil participates in several important initiatives to achieve that purpose, such as facilitating access to a credit of 400 million USD to purchase food in our market, she said.
She also announced the recent approval of funds to facilitate the purchase of equipment, machinery and tractors to boost agricultural production in Cuba.
We are also making a major contribution to the construction of the western port of Mariel, which is a system of export of goods produced in Cuba, said Rousseff.
The agenda of Rousseff's official visit to Cuba, which will conclude on Wednesday, includes a meeting with Cuban President Raul Castro and the historic leader of the Revolution, Fidel Castro.  (Taken from PL).