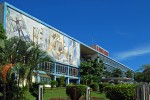 Cuban President, Raul Castro, congratulated teachers, employees and students of the Universidad de Oriente, which celebrated on Wednesday the 65 anniversary of its foundation.
The Eastern University has earned the respect of the Cuban people and the scientific community not only for the significant role it played during the revolutionary struggle, but also due to the thoroughness with which it has assumed the education of its students, the Cuban head of state said in the letter.
The congratulatory message was read before guests, teachers and students gathered for the occasion at the Martyrs Square of that educational institution, located in the eastern province of Santiago de Cuba.
The document also acknowledged the critical work that, over the years, that center of higher studies has carried out in the benefit of the economic and social development of the country.