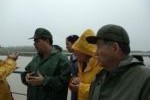 Cuban President Raul Castro acknowledged on Tuesday the work done through the years by the Cuban Civil Defense System on the occasion of its 50
th
anniversary.
The Cuban head of state sent the Chief of the Civil Defense System, division general Ramon Pardo Guerra a diploma, which was handed over during a ceremony in Havana by the member of the Political Bureau of Cuba's Communist Party, deputy minister of the Revolutionary Armed Forces and Hero of the Republic of Cuba, army corps general Ramon Espinosa.
In his words at the ceremony, general Pardo Guerra recalled the founding of the island's Civil Defense System back in July 31, 1962 with the historic mission of protecting the population and the country's economic resources from any risk of an imperialist aggression and terrorist actions by internal counterrevolutionaries.
In the presence of the main chiefs of the Revolutionary Armed Forces and Communist Party officials, a sculpture by artist Andres Gonzalez was unveiled on the occasion.
The work, which symbolizes the contrast between  brutal forces of nature and the human solidarity of the Cuban people in their struggle against adversity,  was located near the Civil Defense headquarters and next to a plaque bearing a statement by Cuban Revolution leader Fidel Castro reading that "a Revolution is a force, which is more powerful than Nature".
Taken from AIN