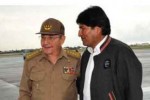 Cuban President, Raul Castro, saw off his Bolivian counterpart Evo Morales, who concluded on Monday a brief working visit to the Caribbean nation.
Previously, the two heads of state held official talks on the excellent state of relation and cooperation between their two countries as well as other issues of regional and international relevance.
After his Cuba visit, Morales traveled to New York to participate in the 67th session of the UN General Assembly.