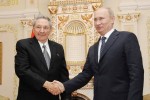 "This has been an intense and very useful working visit", said Cuban President Raul Castro during his talks in Moscow with Russia's Head of State Vladimir Putin.
During the meeting, held Wednesday at the Novo Ogoriovo Presidential Palace, Putin welcomed Raul Castro to the Russian capital and recalled recent commemorations in both countries for the 110th anniversary of the establishment of full bilateral diplomatic relations. "Cuba is not only our ally, but also a good friend",  said the Russian President and noted that "our relations are now more pragmatic, but we will use everything positive from all these past years".
Putin expressed his interest in addressing all bilateral cooperation programs currently underway in different areas, and he asked Raul Castro to greet Cuban Revolution leader Fidel Castro in his name.
The Cuban President expressed satisfaction for having visited Russia again and he said that "we are living in a quite complex world due to several reasons, so I think it is fair that in the light of the new situations, we should take a look at accords reached during my previous visit in 2009".
Previously, Raul Castro met with Russian Prime Minister Dmitri Medvedev, who was happy to evaluate with Raul the current Cuba-Russian cooperation efforts. The two leaders also exchanged views on issues of bilateral and international interest.
"I think that we have achieved the strengthening of our relations over the past few years",said the Russian Premier.
Medvedev also referred to the impact by the current world economic and financial crisis on the two countries and he stressed the need to get the most out of both countries' national potentials in order to keep advancing bilateral economic relations.
On Wednesday morning, the Cuban President also met with the Secretary of Russia's Security Council, Army General Nikolai Patrushev.
Taken from AIN