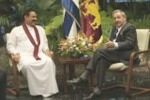 President Raul Castro officially welcomed Sri Lanka´s head of state Mahinda Rajapaksa at the Revolution Palace. Following the ceremony, the two leaders held official talks.
During the meeting the two presidents stressed the good state of bilateral relations between their countries and addressed issues of regional and international interest, Cuban TV reported.
Attending the talks were Sri Lanka´s foreign minister G. L. Peiris, Cuba´s first vice-president Jose Ramon Machado Ventura and foreign minister Bruno Rodriguez.
Earlier on Saturday, President Rajapaksa laid a wreath at the monument of Cuban National Hero Jose Marti at Havana´s Revolution Square.
The Sri Lankan head of state is paying an official visit to Cuba from where he will depart on June 19 to Brazil, to participate in the Rio plus 20 UN Conference.
The Cuban President also met on Friday with India´s foreign minister S.M. Krishna, who is paying an official three-day visit to Havana.
During the talks, Raul Castro and S.M. Krishna exchanged views on international relations and stressed their government´s willingness to deepen bilateral relations.
Foreign minister Krishna arrived in Cuba last Thursday and he has me with his Cuban host Bruno Rodriguez and with the president of the Cuban Parliament Ricardo Alarcon.  (Taken from RHC)