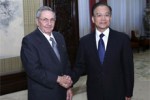 Cuban President Raul Castro has met with the Chinese Premier, Wen Jiabao, on Friday in Beijing, where he pays a four-day official visit aimed at cementing bilateral ties and signing a key economic agreement with the Asian giant.
During the meeting, both dignitaries called for the strengthening of mutually beneficial cooperation in such areas as trade, agriculture, technology, energy and infrastructure.
Wen highlighted the significance of Raul Castro's visit and praised Cuba as a key partner of China in the Latin American region.
"We hope to keep close coordination with Cuba to take China-Latin America cooperation to a new high," the premier said.
Raul Castro is on a four-day trip in China at the invitation of President Hu Jintao, whom the Cuban leader met on Thursday. Chinese Vice President Xi Jinping and Vice Premier Li Keqiang also met with him late on Friday.
It is Raul Castro's first state visit to China since he assumed his current post in 2008; he had visited the Asian country twice before as Defense minister. (Taken from RHC)