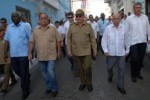 Raul Castro, along with other Cuban leaders and the people of Santiago de Cuba paid tribute this July 30th to Frank Pais and those fallen in defence of the Revolution.
Frank Pais was murdered on July 30, 1957 by henchmen of the Fulgencio Batista dictatorship.  The criminal action moved the nation, which was entering a decisive stage in the struggle for freedom.
A floral wreath on behalf of the leader of the Cuban Revolution, Fidel Castro, and President Raul Castro, was laid today before the tomb of the revolutionary martyr in eastern Santiago de Cuba, which was visited today by hundreds of people, including relatives, workers, students and revolutionary leaders, as part of the traditional July 30th pilgrimage to his final resting place.
The tribute is part of activities in Santiago de Cuba to mark the Day of the Martyrs of the Revolution.