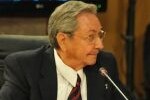 Cuba's President Raul Castro, sent a congratulatory message to newly elected head of state of Serbia, Tomislav Nikolic, said today in a statement the Cuba´s Ministry of Foreign Affairs.
According to the Foreign Ministry, the Cuban president affirmed in the text that Havana will strengthen and expand the friendly ties between both countries.
Nikolic won on Sunday in the second round of local elections with 49.57 percent of the vote, according to data from the Electoral Commission.
Nikolic, 60, is president of the Progressive Party of Serbia, and served as leader of the parliamentary group of friendship with Cuba.
Taken from Prensa Latina