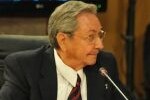 Cuba's President Raul Castro congratulated the newly-elected prime minister of the Bahamas, Perry Christie, the Cuban Ministry of Foreign Affairs said in a communiqué.
In his letter, Raul Castro reiterated to the Bahaman head of Government Cuba's willingness to continue strengthening friendship and cooperation between both countries.
The two nations established diplomatic relations on November 30, 1974, and have continued their collaboration in areas such as health and education, including 100 students from that Caribbean island who are studying at Cuban universities.
An agreement to delimit territorial waters, the economic exclusive zone and the continental platform between Cuba and the Bahamas came into effect on March 9, 2012.
According to the Cuban Foreign Ministry, the accord includes cooperation in the optimal and rational use of sea resources, as well as the possibilities of establishing mechanisms of regional collaboration and scientific cooperation, sailing safety and environmental protection.
Taken from Prensa Latina