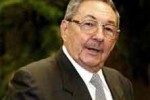 President Raul Castro congratulated the island's delegation attending the 14th Paralympic Games in London. In a message, the president highlighted the Cuban athletes' spirit of sacrifice and dedication, which is so far tenth in the medal standing.
Raul Castro's greeting was transmitted by Jose Ramon Fernandez, head of the Cuban Olympic Committee, to the first members of the delegation who returned to Havana from the Paralympic event.
Cuba has five gold medals in this year's sporting event, which tied the number of gold titles achieved in Beijing 2008.
Taken from Prensa Latina