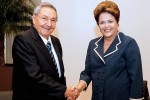 Presidents Dilma Rousseff (Brazil) and Raul Castro (Cuba) reviewed this Friday, the excellent state of bilateral relations and exchanged views about the running of the UN Conference on Sustainable Development Rio+20.
In a friendly atmosphere, Rousseff and Raul Castro also talked about major issues of the international agenda.
They are attending here the top level session of the Rio+20 Conference.
In his speech yesterday at the summit, Raul Castro denounced that "stalemated negotiations and the lack of agreement to check global climate change are a clear reflection of the lack of political will and of the developed countries'  inability to act in line with obligations stemming from their historical responsibility and their current position."
This has been revealed in this meeting, despite the great effort made by Brazil, which we so much appreciate, said the Cuban president, who urged to leave justifications and selfishness behind and find solutions because this time all without exception will pay for the consequences of climate change.
"We need a transcendental change. The only alternative is to build more just societies, establish a more equitable international order, based on the respect for the right of everyone; secure sustainable development to the nations, mainly in the South, and put scientific and technological breakthroughs to the service of saving the planet and the human dignity," he stressed.
"Cuba hopes that good sense and human intelligence will prevail over irrationality and barbarity," he concluded.
(Taken from PL)