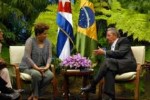 Cuba President Raul Castro and his Brazilian counterpart Dilma Rousseff highlighted today the implementation of the Community of Latin American and Caribbean States (CELAC) as a means to confront the challenges these countries are faced with. According to a television news cast, the two leaders held talks this morning and referred to the excellent state of their bilateral relations as well as to other international topics.
The Brazilian head of state was accompanied by Brazilian Chancellor Antonio de Aguiar Patriota, the presidency's special advisor Marco Aurelio García, and Brazil Ambassador to Havana Jose Eduardo Martins Felício.
The meeting was also attended by Cuban First Vice President Jose Ramon Machado Ventura, Chancellor Bruno Rodríguez and Cuban Ambassador to Brasil Carlos Zamora.
Rousseff arrived in Cuba this Monday for a less-than-48-hour official visit, which is part of a tour that will be concluded in Haiti. (Taken from PL and translated by Escambray).