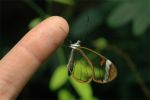 The Glasswinged Butterfly (Greta oto), very little known and rare in Cuba, finds its habitat in the mountainous Guamuhaya, in the central Cuban province of Sancti Spiritus, explained researcher Luis Olmo Jas.
According to the member of the speleology group Sama, the most distinctive feature of the Cuban Greta, also known as Glass Butterfly, is the transparency of its wings, unique in this Caribbean country.
Olmo Jas told Prensa Latina that it was found for the first time in recent field works held in Pico Potrerillo, about 900 meters above sea level.
So far the rare specimen was seen sporadically in wooded areas, wetlands and fresh zones that did not exceed the 700 meters height, although it is abundant in the mountains at the east of the island
The group Sama detected its presence in the Escambray in 1995, in the karst pit of Caja de Agua, Alturas de Banao, south of the city of Sancti Spiritus, about 365 kilometers east of Havana.
Today it has been reported in the forests of Hoyo de las Mariposas, Hoyo de los Pitos and Caballete de Casa.
Olmo Jas points out it is difficult to observe because of its transparent wings, natural defense mechanism against predators.
The wings are translucent, with a wingspan of 5.6 to 6.1 cm (2.2 to 2.4 in). The opaque borders of its wings are dark brown sometimes tinted with red or orange, and its body is dark in color.
Some researchers estimate that specimens living in the mountains of the central region are smaller than those in the east.
The Cuban butterfly include some 177 species, of which 28 are endemic and live mainly in forest areas.
Taken from Cubadebate/Translated by Escambray