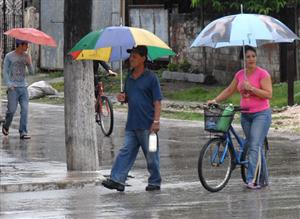 Local heavy rains have been reported in the southern coast of Sancti Spiritus, central Cuba, with the greatest accumulation in the town of Tunas de Zaza, where 152 mm were scored until 8:00AM this Tuesday.
According to a local weather report, a high likelihood of rain is forecasted for today and the coming days in the territory, although the greatest precipitations might take place in the southern region. During the last 24 hours, rainfall has been also significant in the city of Sancti Spiritus (64,6mm) and in Yaguajay, Iguara and Jatibonico, where precipitations exceeded 50mm.
This new weather condition is quite particular for the territory, taking into consideration what happened last May, when the territory was seriously damaged by heavy rains.
A close supervision of water reservoirs has been indicated, and people are requested to follow the weather reports and other instructions on the issue.