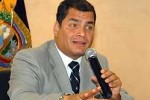 Ecuador's President Rafael Correa, said that his country does respect human rights and this was acknowledged this week within the United Nations in Geneva.
The president rejected an alleged absence of freedom of expression and the aforementioned criminalization of social protest, published by a sector of private national press.
" They do not know what to say, keep making a fool of yourselves. The country knows what is changing and history will know, if any doubts remained, how to put things straight and recognize what this process of Citizen Revolution meant and the role of certain corrupt press, " he said.
He said that while the country is gaining freedom in equality of opportunities and true political rights for all Ecuadorians, oligarchic groups intend to use to citizens according to their privileges and interests.
Last week, Ecuador introduced its Report to the Universal Periodic Review in the Human Rights Council, where it was acknowledged for the advances in this field.
Vice President Lenin Moreno, who headed the official delegation to the forum, said that the "trophies" of his country in this battle are a reduction of unemployment to 4.2 percent and underemployment at 44 percent, the lowest figures on record in history, among other social advances.  (Taken from PL)