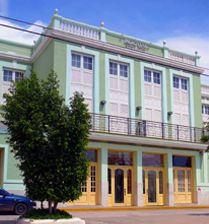 Opinion polls taken by the Ges-Hotel company ranked Iberostar Grand Hotel Trinidad as Cuba's best Iberostar hotel.
Cuba's best Iberostar hotel is found in Trinidad, facing the renewed Plaza Carrillo (Carrillo Square). The statement might be considered somewhat pretentious, but it is validated by the opinion polls taken by Ges-Hotel, a foreign company that evaluates the satisfaction of clients.
Good taste and elegance are present right since the façade of the facility. An intimacy environment welcomes the visitors everywhere inside the hotel. Decoration is remarkable, with paintings by famous artists and the presence of nature in fountains and vases.
But, the exclusivity of the hotel is beyond its charm. The completely automatized facility has been included in the novel "intelligent hotels" category, since it works an efficient procedure for the optimal operation of all its systems. This makes it possible to quickly solve any breakdown, and also benefits the environment.
So much comfort and excellence are not unnoticed by the clients. Thus, the Tripadvisor tourist site ranked Iberostar Grand Hotel Trinidad 2nd among 287 hotels from around the world. This preference is supported by the high quality standards of the first Five Star Hotel in the central Cuban province of Sancti Spiritus.
This rank turns the facility into a sort of locomotive for the development of the Trinidad-Sancti Spiritus tourism pole, having reported over 2 270 000 CUC (Cuban convertible pesos), and an increase of per-day tourists.
(By Ana Marta Panadés. Taken from Radio Trinidad, and translated by Escambray)