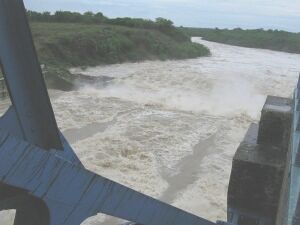 Water reservoirs continue to be constantly monitored in Sancti Spiritus in accordance with indications from the Provincial Defense Council. This body also recommended not to interrupt the adopted measures in order to prevent human or material damages.
The Head of the Defense Council Jose Ramon Monteagudo, called to work as much as possible in recovery tasks, to preserve the hygienic and sanitary conditions of the territory, and to re-establish vital services like electricity.
Although heavy rains almost ceased, over 8 000 people are still sheltered in safe facilities, most of who were evacuated from the area downstream the Zaza dam, Cuba's largest water reservoir. Nearly all local dams are running, and none of them is in danger. Such was informed by experts from the Water Resources Provincial Offices.
According to preliminary assessments, damages are reported on countryside and urban agriculture, as well as on over a thousand houses.
Monteagudo highlighted the work carried out by the defense councils in every level, the commitment of the institutions' leaders, and the way in which the population behaved. In this respect, he emphasized on the need to be disciplined so as to prevent accidents due to careless actions.