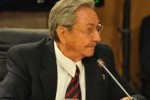 The President of the Cuban Councils of State and Ministers, Army General Raul Castro met on Tuesday with Brazil's Health Minister, Doctor Alexandre Padilha, who is paying a working visit to Cuba.
According to Granma newspaper, during the cordial encounter, which was also attended by Cuba's First Vice-president Jose Ramon Machado Ventura, Raul Castro and Alexandre Padilha addressed the excellent state of relations between their countries and issues of regional and international interest.
They also exchanged views on the prospects of bilateral links in the area of health and their countries' willingness to keep diversifying cooperation relations.
On Tuesday morning, the distinguished visitor met with First Vice-president Machado Ventura, the newspaper reported.
Doctor Padilha was accompanied by the international advisor to the Brazilian Health Ministry Alberto Keinan and by the commercial attaché in Havana Alexandre Ghisleni.
On the Cuban side were Health minister Roberto Morales and deputy health minister Marcia Cobas.