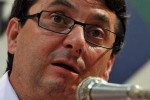 The general secretary of the Spanish Communist Party (PCE) Jose Luis Centella arrived Wednesday in Havana and met with foreign minister Bruno Rodriguez, who welcomed him to this capital city.
During the meeting Centella and Rodriguez addressed issues of international interest and exchanged views on the challenges posed by the current international economic crisis, according to a press release by the Cuban Foreign Ministry.
The Spanish communist leader was accompanied by  lawmaker Alberto Garzon and the International Cooperation secretary of the Spanish Communist Party Gloria Aguilar.
Jose Luis Centella visited the island in 2010, when he held talks with President Raul Castro. The Spanish political leader has maintained a position against the over-50-year US economic, commercial and financial blockade of Cuba and he has also requested the European Union to adopt a position towards the island that differs from the US´s hostile Cuba policy.
Taken from AIN