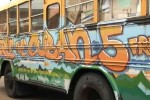 The 23rd Pastors for Peace Caravan to Cuba is already in Mexico after crossing the US border on Thursday. The solidarity action with Cuba takes place for the 20th time challenging the US economic blockade of the island, and as a strong demand for the return to Cuba of the five antiterrorist fighters held in the US since 1998.
During the border crossing, which took place on the Pharr and Hidalgo bridges, in Texas, with  coverage by Mexican TV channels, US authorities seized six equipment included in the 100-ton humanitarian cargo destined to the Cuban people, according to information posted on the Caravan's website.
The aid, which will be shipped to Havana from the Mexican port of Tampico, includes seven vehicles, medications, medical equipment and incubators, as well as x-ray equipment and other items, the information explains.
Caravan members, who expect to be in Havana on Saturday, July 21, are coming from the United States, Canada, Mexico and some European countries. Once in the Cuban capital, they will hold a group of activities marking the 20th anniversary of the Pastors for Peace Caravans to Cuba.
The humanitarian initiative has sent 23 caravans to Cuba in open defiance of the US economic, commercial and financial blockade of Cuba.
Taken from AIN