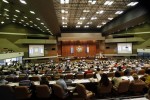 Cuban parliamentarians gather in permanent commissions this weekend to analyze significant issues at the center of interest of the population and the country's economic development.
The domestic marketing of produce in the capital city and other western provinces will be high on the agenda of the permanent commission on Food and Agriculture.
Also on the spotlight of parliamentarians are agriculture and reforestation plans aimed at reaching sustainable development in mountainous areas, which cover 1.9 million hectares of Cuban cultivable lands.
The commission on Economic Affairs will look at preparations and prospects of the upcoming Population and Housing Census, to take place September 15-24.
The lawmakers dealing with the sector of services along with those in charge of national defense will debate the measures being taken against crime, social indiscipline and corruption.
Also on the agenda is a study research on the country's potential to generate biomass and to exploit other renewable energy sources, as part of issues relevant to the Environment and Energy.
The working commissions will be in session Friday, Saturday and Sunday, prior to the 9th Session of the Cuban Parliament to take place Monday and Tuesday.
On Thursday, the lawmakers gathered in a plenary session to considered reports by several state entities, such as the National Water Resources Institute and the Higher Education Ministry.
In her report to the lawmakers on Thursday, the president of the Water Resources Institute Ines Maria Chapman said that Cuba supplies drinking water to 94.5 percent of its 11-million population through pipe infrastructure
Aqueduct systems supply drinking water to  8 million 240 000 citizens in over 2 400 urban and rural settlements, though six percent of Cubans have received water by cistern trucks over the past few years due to the effects of severe drought and breakdowns of  pumping equipment.
The official told lawmakers that the rural areas show a worst situation because only 38.6 percent of residents in those zones get water through pipe infrastructure.
Meanwhile, Higher Education minister Rodolfo Alarcon said the sector shows promising results as to its educative and political-ideological objectives.
The updating of functions of Marxist Philosophy departments at universities and the inclusion of the History of Cuba as a subject in the curriculum have contributed to eradicating some gaps in the knowledge of those disciplines, revealed by a previous study in 2009.
Taken from AIN