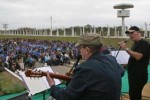 During the last 53 years, Cuba has been a country free of tortures and abuses to prisoners, what has ratified the moral strength of the Revolution, lawyer Antonio Llibre stated in this capital.
The expert on international law of the National Association of Cuban Lawyers, a non-governmental organization with more than three decades, stated that this scenario contrasts with one existing in the region in equal period , as well as that of the island before January 1, 1959.
Many Latin American countries have suffered from regimens in the 60s, 70s and 80s of the last century, with the support of the U.S. Central Intelligence Agency, applied to the murder, torture and disappearance of people to silence leftwing movements and social protests.
Before the triumph of the Revolution, Cuba has also experienced that situation, from which I was a victim during my participation in the illegal struggle against the Fulgencio Batista dictatorship, Llibre stated at an interview granted to Prensa Latina.
According to what the expert said, he was tortured and beated twice due to his political activities in the 50s.
For Llibre, the island began a new stage on January 1, 1959, marked by the respect to prisoners and the banishment of torture as a method to intimidate or extract information from adversaries.
From clandestine life and the rebel struggle in the Sierra Maestra mountain range, the Cuban Revolution has given clear signals of what an example of ethic attitude and respect to prisoners have been for more than 50 years, the expert noted.
According to the almost 80-years-old jurist, during his stay in the eastern Cuban mountains, as a member of the Rebel Army that defeated the Batista troops, Llibre participated many time in the delivery of captured officers and soldiers.
We took advantage of each lull to deliver prisoners save and sound to the Red Cross, while wounded people were returned after receiving all medical assistance, a behavior that the leader of the Revolution Fidel Castro has always preached, he stated.
Llibre said that practice has continued in the island, where the legal protection to human rights, and particularly the inviolability of prisoners in their personal safety is included in the Constitution of the Republic and other fundamental and procedural regulations.
Articles 9, 10, 26, 58 and 59 of the Constitution reflect guarantees of the full dignity of man and the enjoyment of his rights, while section 30.11 of the Penal Code establishes that "the prisoner can not be the object of physical punishments, or admissible to use any measure that means humilliation against him."
Taken from Prensa Latina