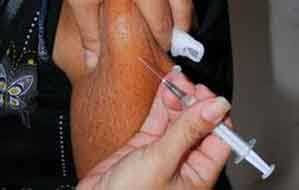 Over 20 000 citizens have been so far vaccinated against seasonal flu in Sancti Spiritus, central Cuba, since the national immunization campaign was started in the island last November 20th.
According to sources from the Provincial Center of Hygiene, Epidemiology and Microbiology,  this kind of vaccination process is carried out every year at this time, and has included people aged over 85, as well as people kept in homes.
Over-18-year-old patients who suffer from chronic renal failure, cystic fibrosis, and infantile cerebral palsy were also vaccinated, as well as diabetic and asthmatic patients aged 18 to 14 years old. Some pregnant women, and health workers at high risk have been also taken into consideration.
The vaccine is an injectable only dose that protects against seasonal flu, and has no adverse reactions so far reported in the territory.