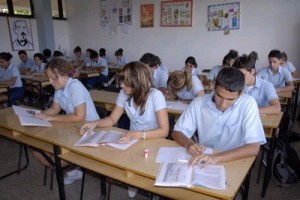 Admission exams to Higher Education in Sancti Spiritus, and in the rest of Cuba, kicked off this Tuesday 8th and will continue on May 11th and 15th, with Mathematics, Spanish Language and History respectively, in their first round.
According to data offered by the Provincial Admission Commission, over 1700 students in the Cuban central province are take on the exams in the 11 locations prepared for that purpose.
As an inviolable condition all Cuban students are to present their Ids and provide adequate ground before the president of the commission if they cannot be present in any of the exams to be held.
Every applicant would have two chances to take the tests, in case of flunking the first one or failing to attend the ordinary round due to justified causes. The second round is scheduled for June 11th, 14th and 19th
All students applying are guaranteed a post as long as they passed the three subjects to be examined. Most of the courses of studies deal with pedagogical interests.
Rigor, transparency and quality are to characterized Cuban admission exams to Higher Education.