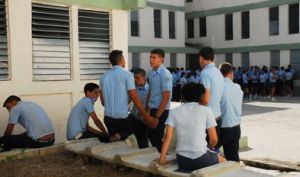 The education levels in  Sancti Spiritus rose with the recent graduation of 1 651 students who have already received, or are to be recipients of their high school diplomas after successfully passing the tests of the twelfth grade.
The guarantee of the studies continuity for these graduates allows, in theory, the allocation of a university place for each of them, since Sancti Spiritus was given more than 2 000 capacities, with higher priority for  Pedagogical Sciences , Medical, Technical and Agricultural courses of studies.
However, only those with  good preparation, passing the entrance exams in their first call or do so in the second, may access university.
Up to present days about the 70.5 % had passed the tests, which almost doubles the similar indicator of last year and places this central province of Cuba in third place, after Las Tunas and Pinar del Rio.