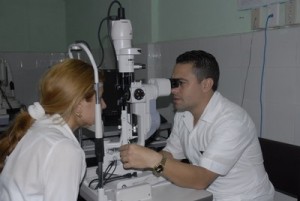 Uveitis, commonly known as intraocular inflammation, is one of the ophthalmic pathologies that affect in great extent residents in Sancti Spiritus,  as well as the rest of the world, with an incidence, up to this moment, of some 150 new cases.
From January up to present days, 1520 patients have been assisted in the specialized consultation for the treatment of that affection, held in the Provincial Ophthalmic Center, replicated only in Pinar del Rio, Santiago de Cuba and Havana.
Dr. Jorge Luis Bustillo Gonzalez, first degree specialist in Ophthalmology and sub-specialist on intraocular inflammations, explained that even if the affection tends to be recurrent and long-lasting, the treatment at a suitable time, both medically and surgically, helps improving the visual health of the patients, for instance, the 13% of those treated in the center has been already cured.
"Genetic, geographic, economic and social factors can all cause uveitis, but it can also be determined by infectious or autoimmune diseases, said the physician, that is why its treatment is considered multi-disciplinary. HIV patients are prone to this disease, so they are given a special care".
After the ophthalmic consultation was opened in the Cuban central territory of Sancti Spiritus, around the 90% of cases are diagnosed and treated in the facility without the need of turning out to the National Ophthalmic Institute. State-of-the-art equipment makes it possible for the center to provide the required assistance to patients.