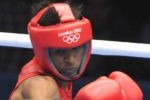 In a moved semifinal, with more than enough exchanges and effective blows, Cuban boxer  Lazaro Alvarez lost 19-14 to Irish John Kevin and could not access the title dispute in the 56 kg division, in the 2012 London Olympics.
The current world champion could not do much before the European, aged 23, because every time he walked into short distance, he got out with disadvantage, although he proved to be more combative, particularly after the second assault.
Thus, the athlete from Pinar del Rio ended up losing all three rounds (3-5, 6-7 and 5-7) and will have to settle for the bronze medal, already secure.
Taken from Juventud Rebelde/Translated by Escambray