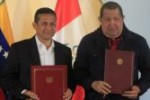 President of Peru, Ollanta Humala, arrived in Venezuela this Saturday for talks with his Venezuelan counterpart Hugo Chavez in his first official visit to this country in his capacity as head of state.Humala and his accompanying delegation were received by Chavez in the international airport Manuel Piar in Puerto Ordaz, Bolivar state.
Speaking in advance to the press present at the airport, the Venezuelan leader said he would meet with Humala in the Orinoco Oil Belt. We will sign agreements to establish the Peru-Venezuela strategic partnership, he said, and said that this visit in the early days of the year bodes well for relations between the two countries and peoples and for South American union.
The Orinoco Oil belt, where the two presidents and their delegations will meet, is considered the largest source of liquid hydrocarbons reserves in the world.
It covers an area of 55,314 square kilometers and a current operating area of 11, 593 square kilometers and is located south of the states of Guarico, Anzoategui and Monagas.  (Taken from PL).