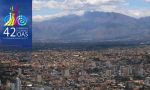 The 42nd General Assembly of the Organization of American States (OAS) will conclude in this city on Tuesday, after two intensive days, marked by demands to reformulate the continental organization.
The meeting, taking place at a hotel in the Cochabamba municipality of Tiquipaya, will end after speeches by Presidents Evo Morales (Bolivia) and Rafael Correa (Ecuador), who separately requested such a reformulation.
Both Morales and Correa insisted that the OAS must adjust to present times and stop being an instrument at the service of hegemonic powers, in franc allusion to the United States, a country that has used the organization at its will since it was created.
The two presidents' stances made it clear that the OAS has the urgent need to be reformulated in favor the peoples and the processes the region is currently experiencing or disappear.
For that reason, the foreign ministers and heads of delegations from the countries attending the event could appeal a joint statement that includes some recommendations to reform the functioning of the organization and the Inter-American Commission on Human Rights (IACHR), also a center for criticisms on previous days.
On Monday, the general Assembly discussed the issue of food security and sovereignty, but possible changes in the IACHR and the statments by the Ecuadorian president left food in the background, although the Social Charter of Cochabamba was approved.
The more than 1,000 delegates attending the meeting of social movements requested since the first moment to listen to Bolivia's demands to have a sovereign access to the Pacific Ocean and Argentina's claim for sovereignty over the Falkland (Malvinas) Islands.
Taken from Prensa Latina