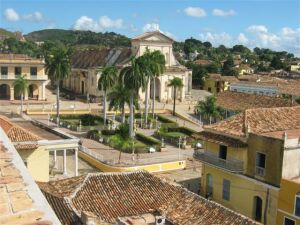 The nearly 60 members of the 54th Solidarity-with-Cuba Nordic Brigade that arrived Monday in Sancti Spiritus, travelled to the nearby province of Villa Clara to pay a visit to Commander Che Guevara Memorial. By Pastor Guzmán Castro
The visitors, coming from Sweden, Norway, Denmark and Finland, were welcomed in San Jose del Lago Motel, located in the northern municipality of Yaguajay, by local officials from the Cuban Institute of Friendship with the Peoples (ICAP) and other local authorities.
They will also tour the ancient city of Trinidad on Wednesday and will return to Yaguajay on Thursday. On this occasion, they will pay a visit to Camilo Cienfuegos Historic Complex where they will meet with members of the Association of Combatants of the Cuban Revolution.