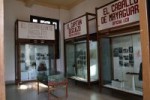 The XI National Workshop on the Fight Against Bandits (LCB, in Spanish) is to take place next March 15th to 17th in the Cuban ancient city of Trinidad.  According to a Cuban News Agency release, the event includes debates, conferences and visits to historical locations.
Those interested to participate must register before February 28th at the LCB museum in Trinidad. They can also call (0141994121) or contact the following e-mail address: mlcb@hero.cult.cu.
The fight against bandits, the role of women during this period of time, the role of grassroots organization, and pirates' attacks and terrorism are the topics to be discussed at the forum.
The museum is a XVII century building located in the oldest area of Trinidad, the third village founded in Cuba, and also a UNESCO World Heritage Site.
The facility was founded in 1984, and aims at encouraging the study of one of the most heroic stages in the struggle against US plans to overthrow the Cuban Revolution.