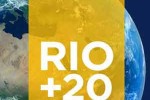 A new round of negotiations to achieve a consensus for the final document for the Rio + 20 Conference began on Saturday in Rio de Janeiro.
The Brazilian Foreign Minister, Antonio Patriota, explained that the negotiators of this phase, named "Dialogues for Sustainable Development," will meet in ten groups for three days to debate the topics considered sustainability priorities in the international agenda.
Patriota mentioned the topics to be discussed include unemployment, decent work and migrations, sustainable development as a solution to the economic crisis and to combat poverty, and the economy of sustainable development.
Secretary-general of the United Nations for the Earth Summit, Maurice Strong, criticized the failure to comply with the commitments made twenty years ago regarding sustainable development, pointing out that the access to financial resources and clean technologies, approved in 1992, has not been achieved. He added that industrialized countries have not followed through with the development program goals for developing nations. (Taken from RHC)