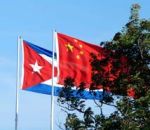 Cuba and China today signed an agreement on trade promotion activities including bilateral exchange of information between companies of the two countries.
The document was signed by the Secretary General of the Chamber of Commerce of Cuba (CCC), Omar Fernandez, and the deputy director general of Foreign Trade Center of China, Xu Bing.
As part of the commitments made in this agreement, both companies will have access to publications issued by each one of them, said Fernandez.
The signing took place at a meeting to promote participation in the 112th edition of the Import and Export Fair in China, also known as the Canton Fair, which will take place from October 15 to November 4.
China is Cuba's second largest trading partner after Venezuela, and the most important in Asia.
That country's ambassador in Cuba, Zhang Tuo said bilateral trade relations are going very well, and called to trust the future of the Chinese economy and its links to the archipelago.
The meeting was also attended by economic and commercial counsellor of the Chinese Embassy, Ma Keqiang, and Director of International Relations of the CCC, Celia Labora, and other officials.  (Taken from PL)