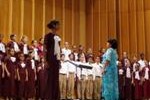 The tenth International Choir Festival, CORHABANA, is scheduled to be held in the Cuban capital from July 3 through 7.
At the choral singing fiesta held every two years, professional and amateur choirs from all over the world, enjoy a wonderful professional, cultural and social exchange with their Cuban counterparts and people in general on the island.
Master lectures and presentations by different participating choirs will take place in the city's main concert halls and theatres. On this occasion, the Festival is dedicated to the choral work by Cuban maestros Electo Silva and Leo Brouwer.
Workshops on the choral music by young Cuban composers are scheduled to be held and the Cuban and international ensembles will be singing choir versions of popular Cuban tunes.  (Taken from RHC)