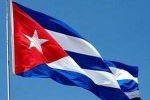 An official release published on Granma daily newspaper on Wednesday announced that the Cuban Council of State agreed to replace two cabinet ministers, who will be assigned other responsibilities.
The Council of State, at the proposal of its President, agreed to release comrade Medardo Diaz Toledo from his post as minister of Informatics andCommunications and promote first deputy minister of this sector, engineer Maimir Mesa Ramos to this office, reads the official note and explains that that Diaz Toledo will return to the Revolutionary Armed Forces.
The Council of State also agreed to release the minister of the Basic Industry, Tomas Benitez Hernandez and appoint engineer Alfredo Lopez Valdes as new minister.
Lopez Valdes was first deputy minister of the sector.  Benitez Hernandez will be assigned other responsibilities, concludes the official release.  (Taken from RHC)